Images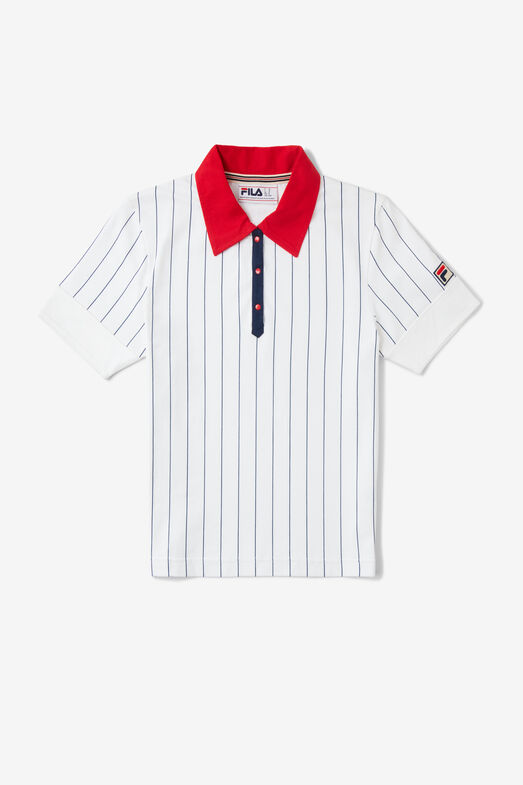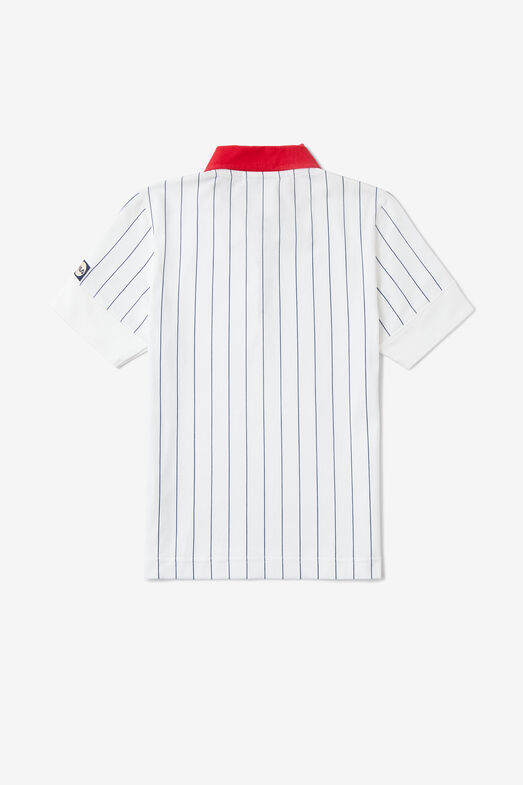 Lacy Premium Polo
Details
https://www.fila.com/lacy-premium-polo/LW01A543.html
Product Details
An homage to the leading lady in one of American's most iconic sports comedies, a women's golf polo for female athletes who refuse to let the boys have all the fun.
Classic navy pinstripes, contrasting collar, and slight stretch so you move comfortably on the green.
Look as good as you play.
Women
| XXS (00) | XS (0-2) | S (4-6) | M (8-10) | L (12-14) | XL (16-18) | XXL (20-22) |
| --- | --- | --- | --- | --- | --- | --- |
| 30 - 31 | 32 - 33 | 34 - 35 | 36 - 37 | 38 - 39 | 40 - 41 | 42 - 43 |
| 23 - 24 | 25 - 26 | 27 - 28 | 29 - 30 | 31 - 32 | 33 - 34 | 35 - 36 |
| 32 - 33 | 34 - 35 | 36 - 37 | 38 - 39 | 40 - 41 | 42 - 43 | 44 - 45 |
| 31.5 | 31.5 | 31.5 | 31.5 | 31.5 | 31.5 | 31.5 |
Men
| S (34-36) | M (38-40) | L (42-44) | XL (46-48) | 2XL (50-52) | 3XL (54-56) | 4XL (58-60) |
| --- | --- | --- | --- | --- | --- | --- |
| 34-36 | 38-40 | 42-44 | 46-48 | 50-52 | 54-56 | 58-60 |
| 28-30 | 31-33 | 34-36 | 38-40 | 42-44 | 50-52 | 54-56 |
| 34-36 | 38-40 | 41-43 | 44-46 | 48-50 | 52-54 | 56-58 |
| 30.75-31.75 | 31-32 | 31.5-32.25 | 31.5-32.5 | 31.5-32.5 | -- | -- |
Girls
| XS | S | M | L | XL |
| --- | --- | --- | --- | --- |
| 6-7 | 8-9 | 10-12 | 14-16 | 18-20 |
| 7-8 | 8-9 | 10-12 | 12-13 | 13-15 |
| 25.5-27 | 27-29 | 29-31 | 31-33.5 | 33-36.5 |
| 23.5-24 | 24-25 | 25-27 | 27-28 | 28-29.5 |
| 27-29 | 29-31 | 31-33 | 33-35 | 35-37 |
| 48-50 | 50-54 | 54-57 | 57-61 | 61-65 |
Boys
| | | | | |
| --- | --- | --- | --- | --- |
| XS | S | M | L | XL |
| 6-7 | 8-9 | 10-12 | 14-16 | 18-20 |
| 7-8 | 8-10 | 10-12 | 12-13 | 13-15 |
| 25.5-26 | 26-27 | 27-29.5 | 29.5-32 | 32-35 |
| 23.5-24 | 24-25.5 | 25.5-27 | 27-28.5 | 28.5-29.5 |
| 27-28 | 28-29.5 | 29.5-31.5 | 31.5-33.5 | 33.5-35 |
| 48-50 | 50-54 | 54-58 | 58-62 | 62-67 |