Women's Memory Elleray 5 Slip Resistant Shoe
Product #5SG30105
Details
https://www.fila.com/womens-memory-elleray-5-slip-resistant-shoe/5SG30105.html
Product Actions
Product Details
The Elleray women's work sneaker in sleek silhouette.
Slip resistant for safety. Memory foam for comfort for long shifts on your feet.
Work hard. FILA.
Synthetic
Slip resistant.
Memory foam.
The shoes were tested in accordance with the applicable industry standards, including: ASTM F2913-11. The slip resistant sole is designed to help prevent slips and falls but this is not a slip-proof shoe. Always exercise caution on slick or wet surfaces.
Worn With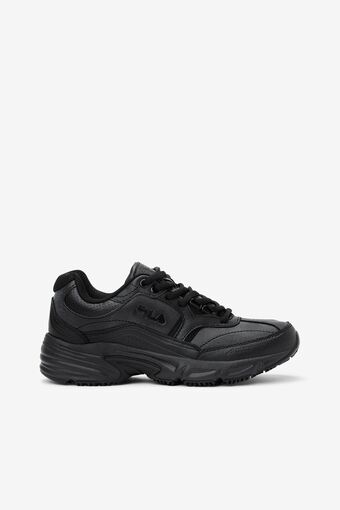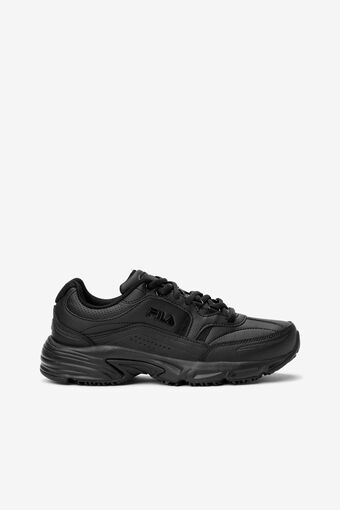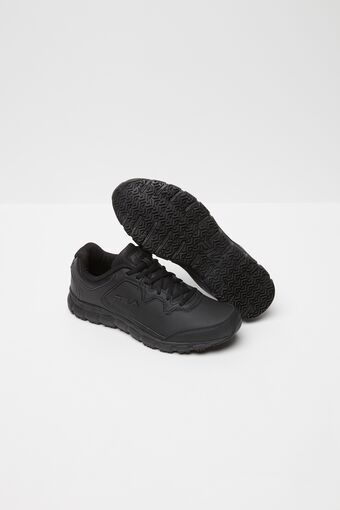 Women
| | | | | | | | | | | | | | | | | | |
| --- | --- | --- | --- | --- | --- | --- | --- | --- | --- | --- | --- | --- | --- | --- | --- | --- | --- |
| 4 | 4.5 | 5 | 5.5 | 6 | 6.5 | 7 | 7.5 | 8 | 8.5 | 9 | 9.5 | 10 | 10.5 | 11 | 11.5 | 12 | 13 |
| 34 | 35 | 35.5 | 36 | 36.5 | 37.5 | 38 | 38.5 | 39 | 39.5 | 40 | 41 | 41.5 | 42 | 42.5 | 43 | 44 | 45 |
| 1.5 | 2 | 2.5 | 3 | 3.5 | 4 | 4.5 | 5 | 5.5 | 6 | 6.5 | 7 | 7.5 | 8 | 8.5 | 9 | 9.5 | 10.5 |
| -- | -- | 35 | 36 | 36 | 37 | 37.5 | 38 | 39 | 39.5 | 40 | -- | -- | -- | -- | -- | -- | -- |
Men
| | | | | | | | | | | | | | | | | | | |
| --- | --- | --- | --- | --- | --- | --- | --- | --- | --- | --- | --- | --- | --- | --- | --- | --- | --- | --- |
| 6.5 | 7 | 7.5 | 8 | 8.5 | 9 | 9.5 | 10 | 10.5 | 11 | 11.5 | 12 | 12.5 | 13 | 14 | 15 | 16 | 17 | 18 |
| 39 | 39.5 | 40 | 41 | 41.5 | 42 | 42.5 | 43 | 44 | 44.5 | 45 | 46 | 46.5 | 47 | 48 | 49 | 50 | 51 | 52 |
| 5.5 | 6 | 6.5 | 7 | 7.5 | 8 | 8.5 | 9 | 9.5 | 10 | 10.5 | 11 | 11.5 | 12 | 13 | 14 | 15 | 16 | 17 |
| 39 | 39.5 | 40 | 40.5 | 41 | 41.5 | 42 | 42.5 | 43 | 44 | 45 | 46 | 47 | -- | -- | -- | -- | -- | -- |
Unisex - (USA)
| | | | | | | | | | | | | | | | | | | | | | | | |
| --- | --- | --- | --- | --- | --- | --- | --- | --- | --- | --- | --- | --- | --- | --- | --- | --- | --- | --- | --- | --- | --- | --- | --- |
| 4 | 4.5 | 5 | 5.5 | 6 | 6.5 | 7 | 7.5 | 8 | 8.5 | 9 | 9.5 | 10 | 10.5 | 11 | 11.5 | 12 | 12.5 | 13 | 14 | 15 | 16 | 17 | 18 |
| 5.5 | 6 | 6.5 | 7 | 7.5 | 8 | 8.5 | 9 | 9.5 | 10 | 10.5 | 11 | 11.5 | 12 | 13 | -- | -- | -- | -- | -- | -- | -- | -- | -- |
LITTLE KIDS
| | | | | | | | | | | | |
| --- | --- | --- | --- | --- | --- | --- | --- | --- | --- | --- | --- |
| 10.5 | 11 | 11.5 | 12 | 12.5 | 13 | 13.5 | 1 | 1.5 | 2 | 2.5 | 3 |
| 27.5 | 28 | 28.5 | 29.5 | 30 | 31 | 31.5 | 32 | 33 | 33.5 | 34 | 35 |
| 9.5 | 10 | 10.5 | 11 | 11.5 | 12 | 12.5 | 13 | 13.5 | 1 | 1.5 | 2 |
| -- | -- | -- | -- | -- | -- | -- | -- | -- | -- | -- | -- |
BIG KIDS
| | | | | | | | |
| --- | --- | --- | --- | --- | --- | --- | --- |
| 3.5 | 4 | 4.5 | 5 | 5.5 | 6 | 6.5 | 7 |
| 35.5 | 36 | 36.5 | 37.5 | 38 | 38.5 | 39 | 39.5 |
| 2.5 | 3 | 3.5 | 4 | 4.5 | 5 | 5.5 | 6 |
| -- | -- | -- | -- | -- | 39 | 39.5 | -- |