Women's Memory Workshift Slip Resistant Shoe
Product #5SG30002
Details
https://www.fila.com/womens-memory-workshift-slip-resistant-shoe/5SG30002.html
Product Actions
Product Details
Slip-Resistant Shoes That Have Some Style Too!
Built To Be Comfy During A Long Shift.
Iconic Everywhere. #FILAstyle
Leather / Synthetic
Memory foam sockliner / DLS foam.
Slip resistant.
Variable Lacing System.
The shoes were tested in accordance with the applicable industry standards, including: ASTM F2913-11. The slip resistant sole is designed to help prevent slips and falls but this is not a slip-proof shoe. Always exercise caution on slick or wet surfaces.
Worn With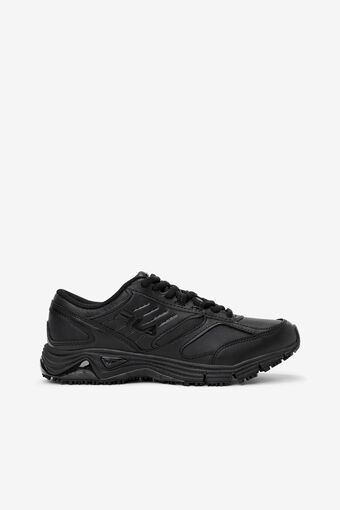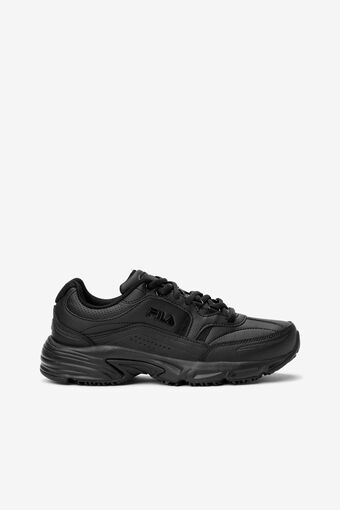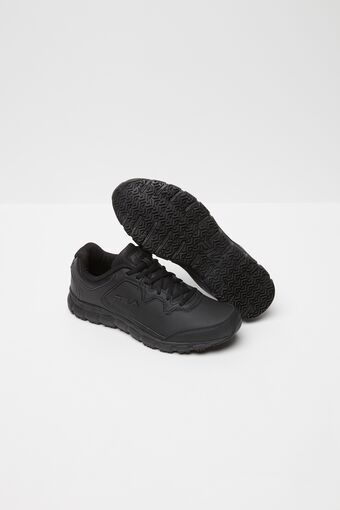 Women
| | | | | | | | | | | | | | | | | | |
| --- | --- | --- | --- | --- | --- | --- | --- | --- | --- | --- | --- | --- | --- | --- | --- | --- | --- |
| 4 | 4.5 | 5 | 5.5 | 6 | 6.5 | 7 | 7.5 | 8 | 8.5 | 9 | 9.5 | 10 | 10.5 | 11 | 11.5 | 12 | 13 |
| 34 | 35 | 35.5 | 36 | 36.5 | 37.5 | 38 | 38.5 | 39 | 39.5 | 40 | 41 | 41.5 | 42 | 42.5 | 43 | 44 | 45 |
| 1.5 | 2 | 2.5 | 3 | 3.5 | 4 | 4.5 | 5 | 5.5 | 6 | 6.5 | 7 | 7.5 | 8 | 8.5 | 9 | 9.5 | 10.5 |
| -- | -- | 35 | 36 | 36 | 37 | 37.5 | 38 | 39 | 39.5 | 40 | -- | -- | -- | -- | -- | -- | -- |
Men
| | | | | | | | | | | | | | | | | | | |
| --- | --- | --- | --- | --- | --- | --- | --- | --- | --- | --- | --- | --- | --- | --- | --- | --- | --- | --- |
| 6.5 | 7 | 7.5 | 8 | 8.5 | 9 | 9.5 | 10 | 10.5 | 11 | 11.5 | 12 | 12.5 | 13 | 14 | 15 | 16 | 17 | 18 |
| 39 | 39.5 | 40 | 41 | 41.5 | 42 | 42.5 | 43 | 44 | 44.5 | 45 | 46 | 46.5 | 47 | 48 | 49 | 50 | 51 | 52 |
| 5.5 | 6 | 6.5 | 7 | 7.5 | 8 | 8.5 | 9 | 9.5 | 10 | 10.5 | 11 | 11.5 | 12 | 13 | 14 | 15 | 16 | 17 |
| 39 | 39.5 | 40 | 40.5 | 41 | 41.5 | 42 | 42.5 | 43 | 44 | 45 | 46 | 47 | -- | -- | -- | -- | -- | -- |
Unisex - (USA)
| | | | | | | | | | | | | | | | | | | | | | | | |
| --- | --- | --- | --- | --- | --- | --- | --- | --- | --- | --- | --- | --- | --- | --- | --- | --- | --- | --- | --- | --- | --- | --- | --- |
| 4 | 4.5 | 5 | 5.5 | 6 | 6.5 | 7 | 7.5 | 8 | 8.5 | 9 | 9.5 | 10 | 10.5 | 11 | 11.5 | 12 | 12.5 | 13 | 14 | 15 | 16 | 17 | 18 |
| 5.5 | 6 | 6.5 | 7 | 7.5 | 8 | 8.5 | 9 | 9.5 | 10 | 10.5 | 11 | 11.5 | 12 | 13 | -- | -- | -- | -- | -- | -- | -- | -- | -- |
LITTLE KIDS
| | | | | | | | | | | | |
| --- | --- | --- | --- | --- | --- | --- | --- | --- | --- | --- | --- |
| 10.5 | 11 | 11.5 | 12 | 12.5 | 13 | 13.5 | 1 | 1.5 | 2 | 2.5 | 3 |
| 27.5 | 28 | 28.5 | 29.5 | 30 | 31 | 31.5 | 32 | 33 | 33.5 | 34 | 35 |
| 9.5 | 10 | 10.5 | 11 | 11.5 | 12 | 12.5 | 13 | 13.5 | 1 | 1.5 | 2 |
| -- | -- | -- | -- | -- | -- | -- | -- | -- | -- | -- | -- |
BIG KIDS
| | | | | | | | |
| --- | --- | --- | --- | --- | --- | --- | --- |
| 3.5 | 4 | 4.5 | 5 | 5.5 | 6 | 6.5 | 7 |
| 35.5 | 36 | 36.5 | 37.5 | 38 | 38.5 | 39 | 39.5 |
| 2.5 | 3 | 3.5 | 4 | 4.5 | 5 | 5.5 | 6 |
| -- | -- | -- | -- | -- | 39 | 39.5 | -- |